One of the most popular activities for locals and visitors to Hanmer Springs is walking - so many great tracks to explore at all different levels.
But there is nothing like a walk with a reward at the end - like the stunning 360 degree view from the top of Conical Hill, or the spectacular 41m high Dog Stream Waterfall at the end of the Waterfall Track.
Tips for Walking in the New Zealand Bush - Outdoor Safety Code
Walking in the New Zealand native bush (or forest), especially in mountainous areas requires a little preparation especially if you are not used to spending a lot of time in the outdoors. Many visitors to New Zealand are unaware of how quickly the weather can change here and how rapidly the terrain you are walking over can change from flat and easy to steep within a short distance.
We have included below five basics to keep you safe when you venture out exploring - along with links to more information about each of these from the NZ Mountain Safety Council website.
The first thing to remember is that every trip needs a plan, even a short day walk. It doesn't take much to turn a short walk into an 'unexpected night out' in the bush.
We've broken down the trip planning process into five key steps which make up the Outdoor Safety Code. This code applies to all outdoor activities regardless of the level of intensity. Each of these steps can help you to be prepared for what you might encounter in the outdoors. Following the code also helps emergency services find you if something goes wrong.
PLAN YOUR TRIP
Seek local knowledge, plan the route you will take and the amount of time you can reasonably expect it to take. Whether it is a bushwalk, a multi-day tramp or a specialised outdoor activity, the planning of an outdoor excursion in New Zealand's backcountry is essential for you to have a great time and also to make it home. 
Read more about how to plan your trip effectively and what to consider.
TELL SOMEONE YOUR PLANS
In New Zealand, it's expected you'll tell someone what you're doing and where you're going before you go. It's called "leaving intentions". Because many outdoor locations are remote and have no mobile phone coverage, often with very few people around, if something does go wrong the only way our emergency services can help you is if they know you haven't returned. Tell a trusted contact. If you're visiting from overseas and your trusted contacts are back home you can still tell them of your plans. 
Find out the best ways to leave intentions so you can be found should anything go wrong.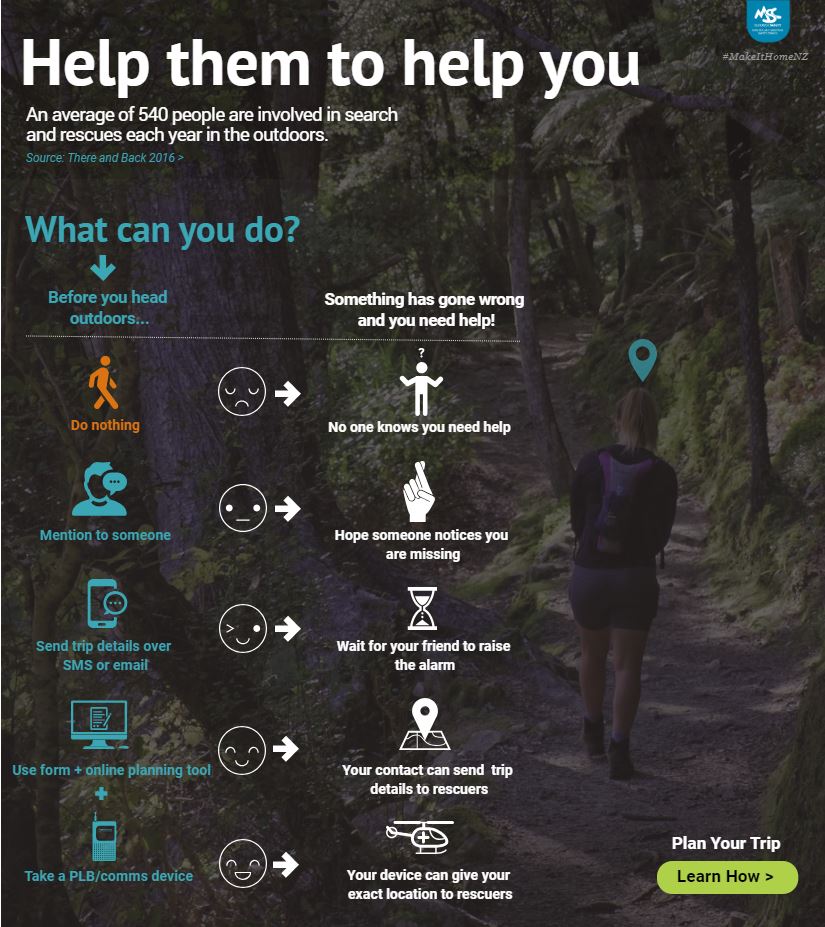 BE AWARE OF THE WEATHER
New Zealand's changeable weather conditions frequently catch out the unprepared. Make sure you check the forecast as well as any weather watches and warnings for your region.
TAKE SUFFICIENT SUPPLIES
Make sure you have enough food, equipment and emergency rations for the worst-case scenario. Take an appropriate means of communication.
If you ask any New Zealand adventurer they'll tell you what should be in your pack, here's a simple list of things we recommend you take. Of course, this list will change depending on where you might be going, how long you're going for and the weather forecast, but use this as a minimum guide. 
KNOW YOUR LIMITS
Making sure that the walk or hike you are planning is within the abilities of everyone in your group is the best place to start. New Zealand walks are marked to indicate the level of experience they are best suited to, so look out for that information when you are planning your expedition. Watch the video below for more information.
This awe-inspiring waterfall is the reward at the end of about a one to one and a half hour walk through native bush. It's a well made and marked Dept of Conservation track and it includes a few manageable river crossings.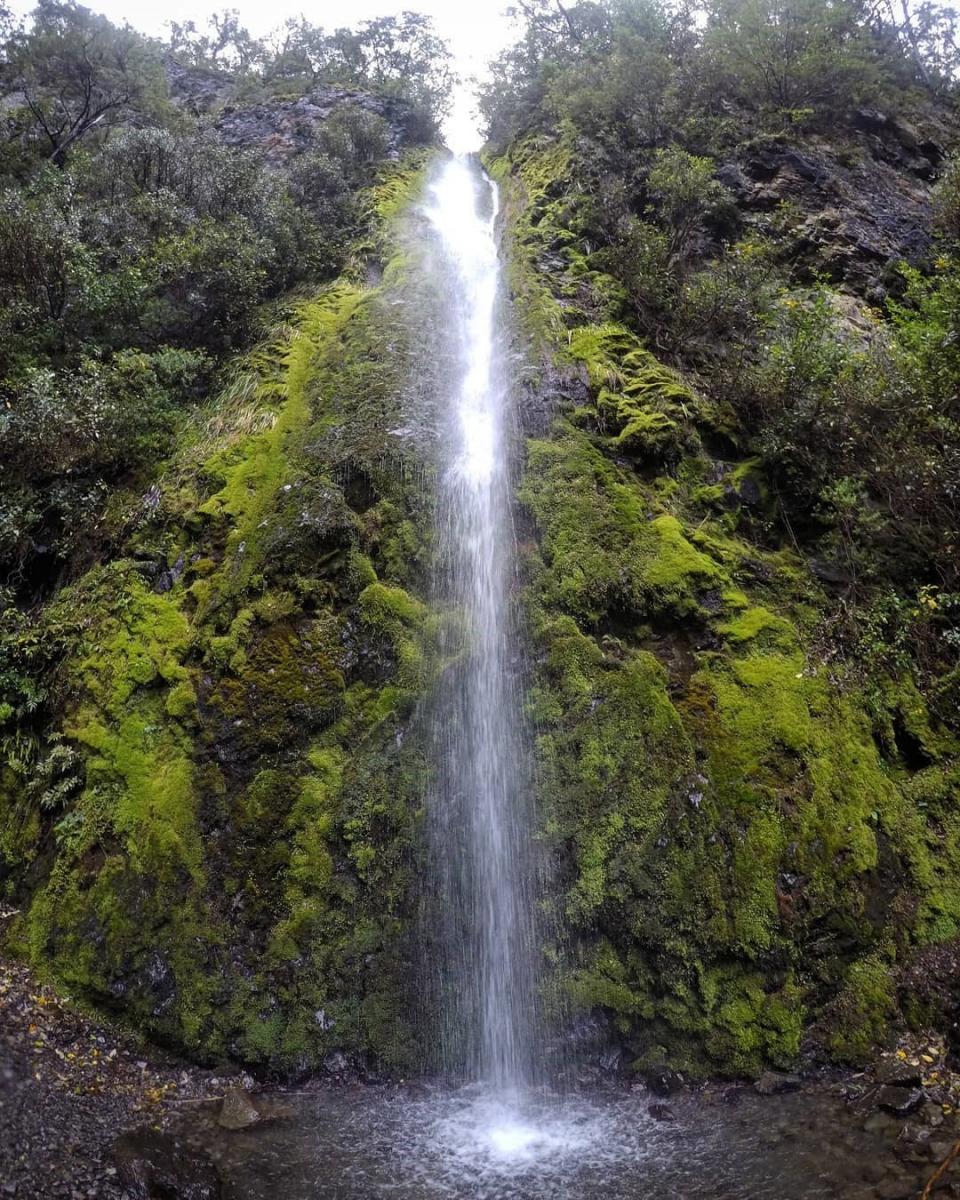 So ensure you are well prepared and wear sensible walking shoes or boots. We also recommend to not attempt this after there has been high rainfall locally or in the ranges. 
All in all it is about two and a half hours return, so plan to make this a half day adventure. The terrain is steadily upwards in most areas, so a level of fitness is a good idea. If you are reasonably fit you will find it no problem at all, but if you are not used to longer walks with some incline, you mind find it a little challenging.