The quieter autumn and winter months are perfect for a team getaway in Hanmer Springs, especially mid-week. There are fewer tourists on the road and the region bursts with alpine charm.
Our brand-new apartments are ideal for a business retreat - to plan the year ahead or simply get to know each other better. With one apartment configuration sleeping 6 people and the second option up to 8 people, there is plenty of room for small-to-medium-sized groups. We have five apartments which can accommodate up to 34 guests in total.
The apartment units are also all in one area of the Park, which helps keep your group together.
You have the option to arrange catering on-site for eating in our apartments or we can help you arrange an off-site venue. In your downtime, your team won't get bored with the wide range of outdoor/indoor activities at hand in Hanmer Springs.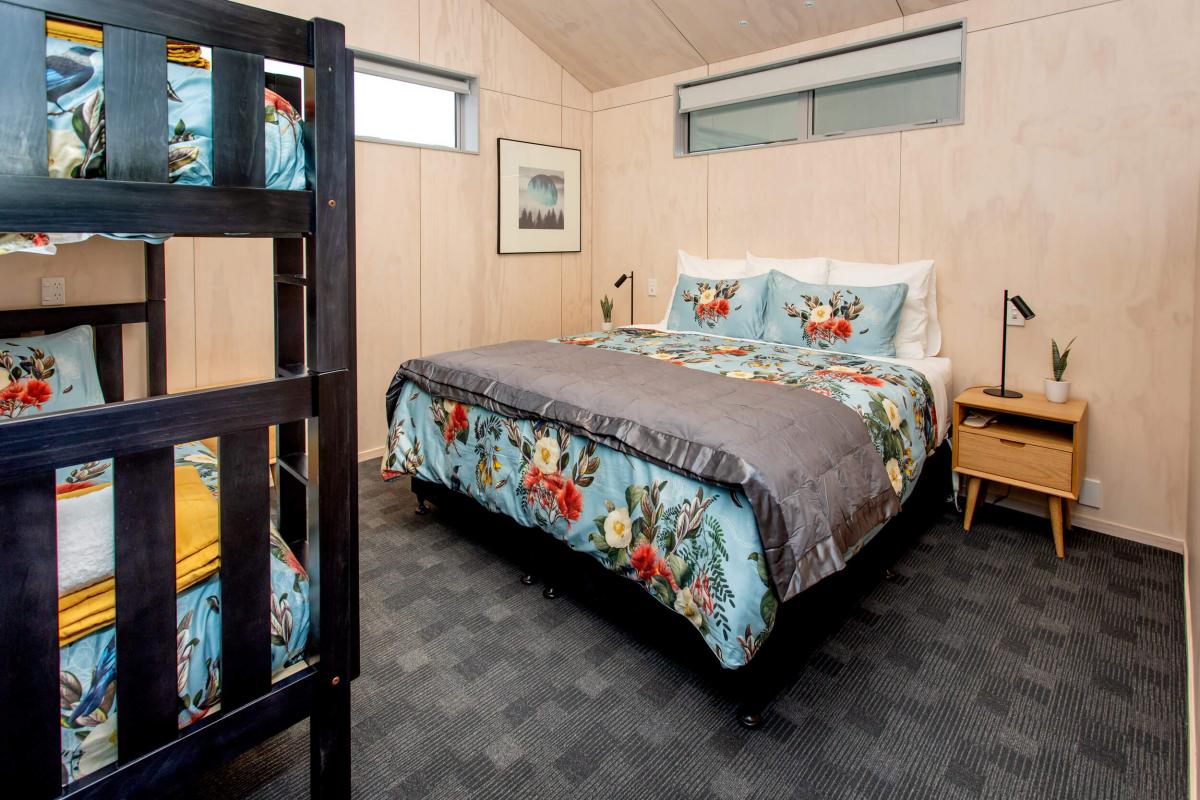 Catering & Dining
Hanmer Springs has some excellent dining experiences to offer. Your team members will get everything they wish for and more – from classic Kiwi meals to Asian cuisine. Here are some of the best places to eat in Hanmer Springs.
If you prefer to have meals in your apartments, for example, grazing platters while you are working or a meal after busy days of planning, we can arrange catering to be brought to you at any convenient time. Whether you prefer platters, gourmet pizzas or fully catered meals, these are all made locally. We can arrange everything for you or put you in contact with the right person to organise your menu.
The locally-made gourmet pizzas are available from our Reception and can be cooked onsite in our gas-fired pizza ovens - a great option for fast and delicious group meals.
If you require catering for your group, just let us know when you book, and we'll arrange the rest for you.
What would a business retreat be without coffee? We've got you covered! Our new apartments have fully equipped kitchens with their own Smeg Espresso machines arriving soon, plus our reception has a commercial-sized espresso machine. Free coffees can be organised from reception for your group on request until the Smeg machines arrive.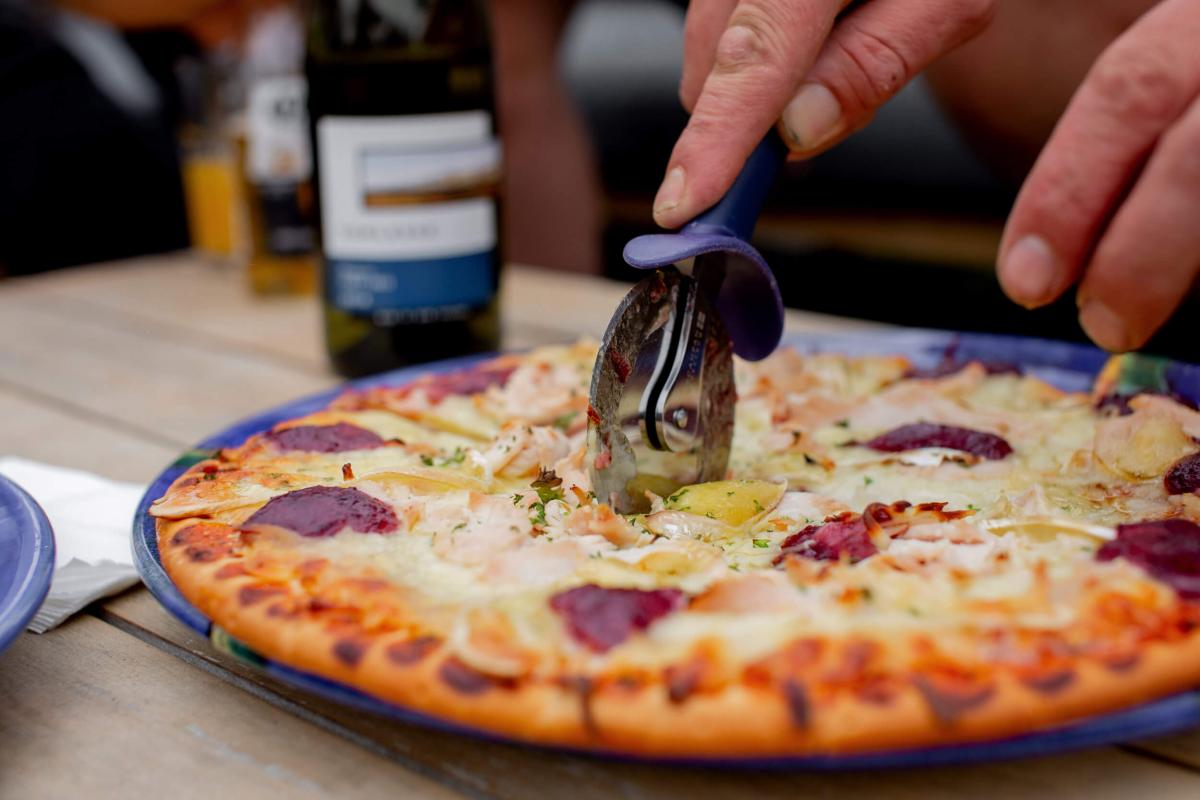 Meeting Space
The new Hanmer Springs TOP 10 Holiday Park apartments come with spacious living rooms that can be used for team meetings. Comfy couches and chairs create a casual and familiar atmosphere for more relaxed sessions, plus each space has a table to seat six people. There is enough space to join two tables together so that a group of 12 - 14 can easily be accommodated for meeting sessions.
The TV sets are equipped with casting devices, so you can connect your laptop for presentations or have a movie night with the whole crew in the evenings. Plus you can use Spotify for background music via our Bluetooth speakers. 
Talk to us in advance if you also require whiteboards for your meeting sessions.
If you want some fresh air and to get outside for team building activities, there is plenty of outdoor space around the apartment you can use. The apartments' decks are fully equipped with two outdoor furniture settings and barbeques. The Dog Stream Recreation Reserve is just around the corner from the Park as well.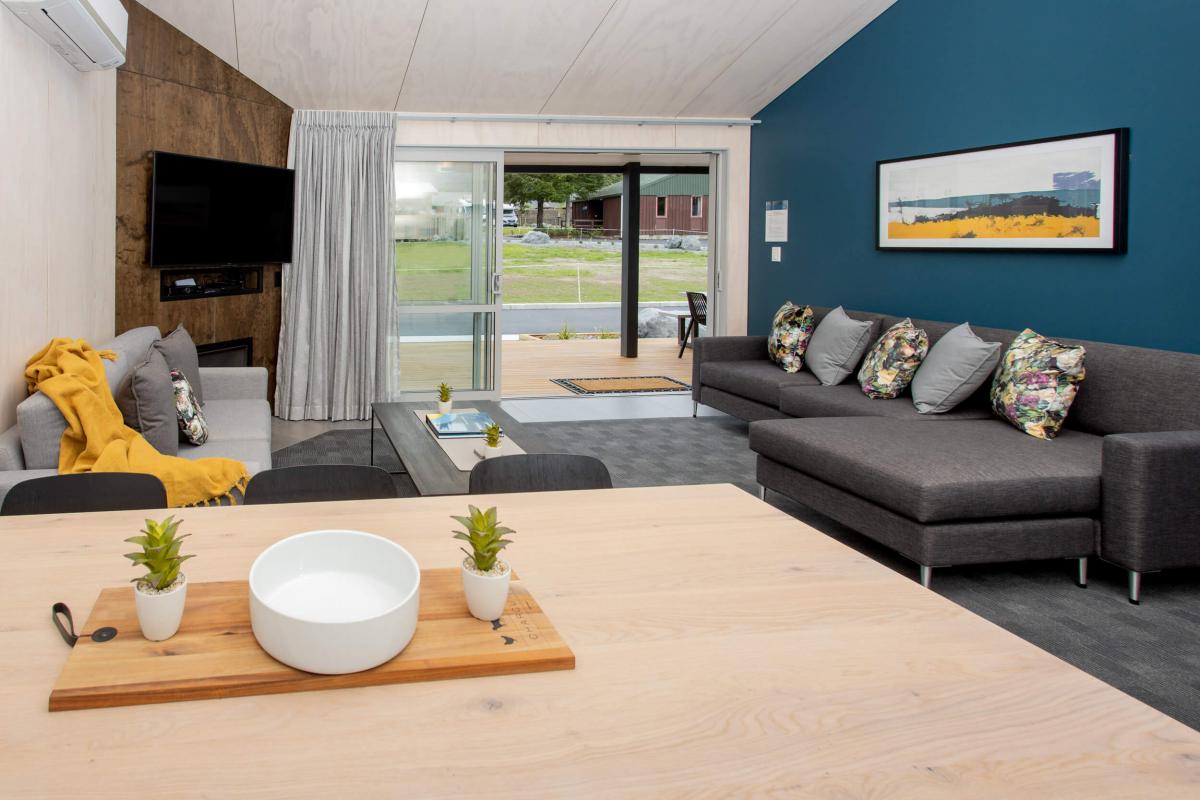 Team Activities Around Hanmer
Hanmer Springs is the place to go to for fun outdoor adventures, like mountain biking, jetboating and white-water rafting. The adrenaline junkies on your team will certainly not get bored and outdoor experiences can make for some great connections between team members. Hanmer Springs Attractions also offers a corporate deals package at a good rate. 
The ones who want to spend their downtime to relax can visit the Hanmer Springs Thermal Pools & Spa or join a wine tasting in one of the region's wineries. We also have wood-fired hot tubs on-site that can be used by all our guests (up to 5 people per tub). And right next door to the Park is the mini-golf and maze set up that adds a fun option for an informal time together.
Further team building activities can be arranged with local yoga teachers and team activity organisers.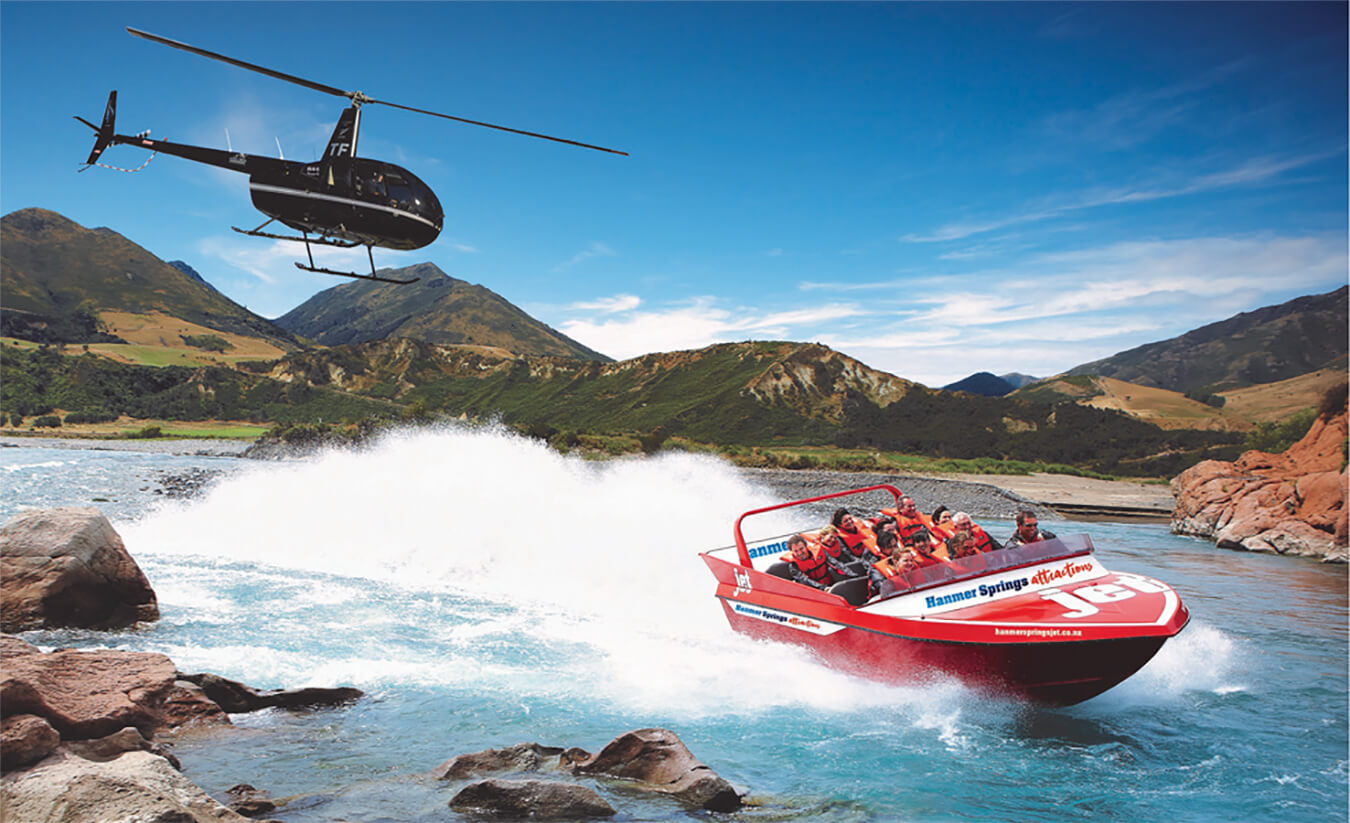 More Information On Our New Apartments
Fully equipped kitchens including oven, dish drawer, microwave, large fridge/freezer with chilled water and ice maker are provided.
Apartments have heat pumps and gas fires to warm you on the colder autumn and winter days.
Two options for bedrooms:
Sleeps 6 has super-king in the master bedroom, plus super king and a set of bunks in the second bedroom
or
Sleeps 8 has super-king in the master bedroom and three sets of bunks in the second bedroom. All super-kings can be split into two singles.
All apartments have one bathroom with toilet plus an additional separate toilet. One apartment has an easy access bathroom.
Kitchen, bathroom and toilet have underfloor heating.
The new Hanmer Springs TOP 10 Holiday Park apartments can also be booked for family holidays, couples' getaways, wedding guest accommodation, girls weekends or other group retreats.
We're looking forward to welcoming your group to our Park!